Crosstrainer 6
- January 30, 2007 - Crosstrainer Software announces the imminent release of their new flagship fitness software program Crosstrainer 6. Crosstrainer 6 is the culmination of over 16 years of fitness software development and will enable Crosstrainer to expand its products and services into professional, educational and personal markets with a flexible, adaptable toolset that will lend itself to a variety of applications. 'With Crosstrainer 6 we have re-written our fitness engine to provide our customers with a streamlined and informational view of their health and fitness status' said Greg Brady President of Crosstrainer Software Corp. 'We have listened hard to our customers suggestions and combined them with our ideas and between them both we think we have a winner; a program that will let you manage whatever aspects of your health and fitness that you desire, in a manner that is non-obtrusive and intuitive.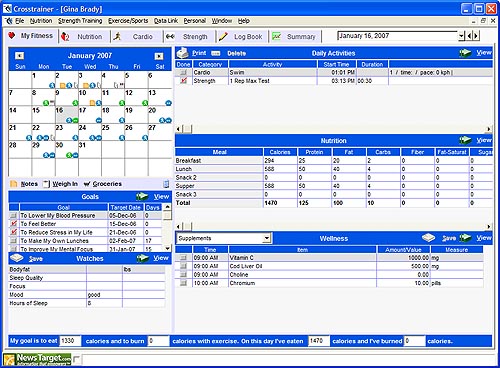 'Our plans include many updates such as support for many more portable devices and heart rate monitors; an online component that allows personal trainers and physiotherapists to communicate with their clients via the web so that they can setup and monitor client programs remotely; provisions for 3rd party developers to write their own programs to interface to Crosstrainer and its database and several other updates are planned'. said Mr. Brady.
'Most of all I would really like to thank our Crosstrainer customers who have not only remained loyal to us throughout the years, but who have also had the patience to wait for us to complete our latest development cycle'. 'The many thanks that we have received over the years touches us greatly; there is great satisfaction in knowing that we have been able to contribute to the health and wellness of thousands of people. We hope to continue this trend for the foreseeable future' said Mr. Brady.
You can download and try crosstrainer for yourself by following this link:
Crosstrainer 6 Download
About Crosstrainer Software
Crosstrainer Software Corporation ignited the fitness software industry in 1991 with Crosstrainer II and has since maintained its reputation as a leader in the fitness software market. Crosstrainer Software Corp. is committed to bringing the best fitness software experience to athletes, exercise enthusiasts, educators and consumers around the world through its innovative software and internet holdings. For additional information please visit:
Crosstrainer 6 Web Site
Press Contact:
Greg Cross
Crosstrainer Software Corp.
Voice: 613-284-1932
Fax: 613-284-1951
E-mail: greg.cross@crosstrainer.ca