Fitness

Nutrition

Workouts

Cardio

Wellness

Progress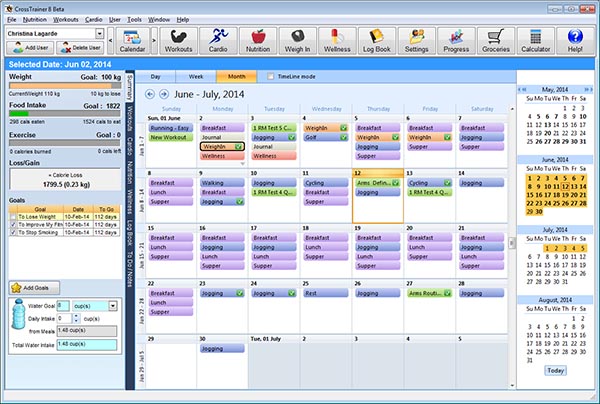 Crosstrainer is a complete fitness program wrapped into an easy to use software program. Designed by fitness professionals to help you reach and maintain your goals. We've been doing this since 1989.
Whatever your fitness activities, whatever diet you follow, Crosstrainer will adapt and provide you with an easy to learn tool to assist you on your daily quest for health and fitness.
Whatever diet your follow, Crosstrainer can be adjusted to follow your choices. Crosstrainer will figure out how much protein, fat and carbs along with the micro-nutrients that you should be eating. Change it up whenever you want.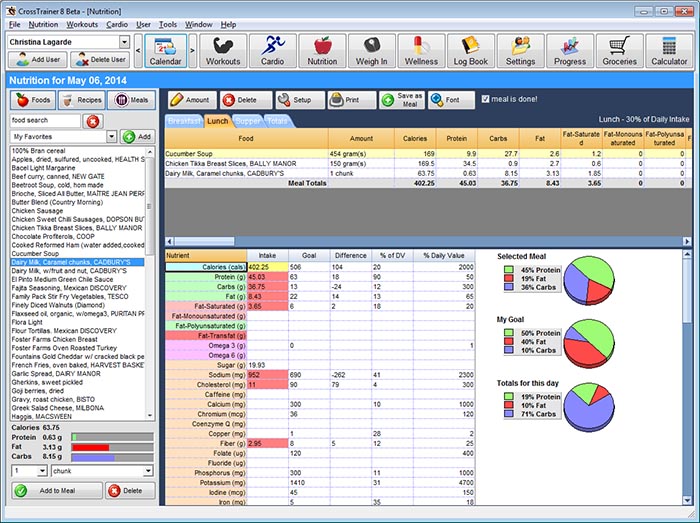 Crosstrainer gives you an easy way to enter and manage the foods you eat. Create a favorites list of the foods you most frequently eat; use Crosstrainer's built in Recipe Book to create healhy and interesting meals. Save meals of your most popular foods and then copy and paste them to different days, or use the built in Meal Scheduler to add meals to many days at the click of the mouse. Crosstrainer has one of the best nutrition modules available. We say this because we have listened to the needs of our customers to make food selection and nutrition entry - which can be tedious into an easy and quick task.
As you add your foods, Crosstrainer gives you instant totals of your nutrients, micro-nutrients and comparisions with your nutrition goals. With a customizable food database containing thousands of foods and their nutrient values, and a virtually unlimited capacity for additional entries, Crosstrainer provides you with a tool that will take the headache out of your dietary planning and management, leaving you free to focus on the preparation and planning of meals and dieary requirements. As an extra, the grocery cart feature will auto-build your shopping lists.
Why do you workout? How do you workout? How good was your workout? How many calories did you burn? Tell Crosstrainer what your purpose is, and Crosstrainer will create and manage your workouts and goals for each exercise.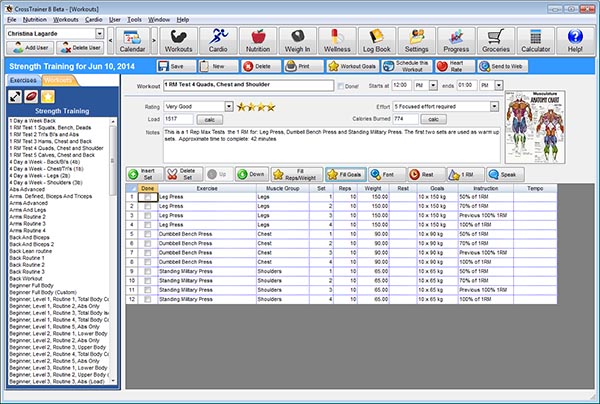 Crosstrainer has a very thorough and robust strength training component that can assist the beginner or the most experienced weight lifter. With many free-weight, machine and isometric exercises to choose from, it's very easy to create a workout that is right for you.
It's also easy to add your own exercises, but with Crosstrainer's built in exercises and lifts getting bored in the gym will be a thing of the past. Crosstrainer has many pre-defined workouts to select from, and you can always create your own from scratch.
Trainers can used the built in Scheduling Tools to create detailed Training Plans that will help clients progress from workout to workout. Advanced bodybuilders can use the Intensity based training that uses percentage of 1 Rep Max to keep on track.
A variety of ways to print your workouts will let you take your workouts to the gym. If you've ever tried using a smartphone to record a workout at the gym you know why paper is hard to replace. You can even email workouts to clients from within Crosstrainer.
A big part of Crosstrainer is the ability to enter and track your Cardio fitness, whether specific training exercise, sports, DVD workouts or even exercise that happens working around your house.

Cardiovascular training is only second to your diet in terms of your health and fitness. Such an important and often neglected part of our daily lives should be developed through activities and fitness choices that can be repeated throughout the year. Once you're in the habit, the process becomes and enjoyable and rewarding part of your daily life.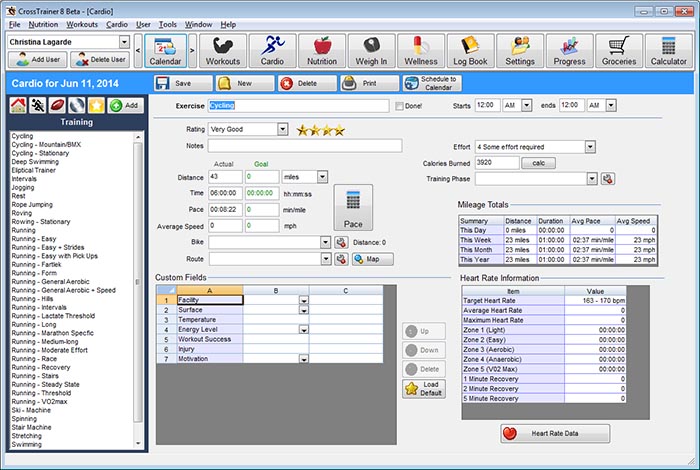 Crosstrainer has a large list of common training, sports and exercise activities. Pick an exercise, schedule it to your calendar. Track and rate your performance. How many Calories did you burn? Crosstrainer will tell you. Create goals for Distance, Time, Pace and Speed. Compare these goals with your actual performance. Add your own custom fields to track what you want. See Mileage Totals for each exercise or overall. Enter and track heart rate and time spent in zones. View your performance in the Progress module and compare your performance with your nutrition and wellness information.

Crosstrainer makes it easy to create and manage your own Training Plans using the built in weekly progression module. You can also schedule your cardio to multiple days with the build in Scheduler. The Crosstrainer Summary tab, will show you how your cardio is impacting your daily caloric requirement and current weight.

Crosstrainer's built in Wellness management give you a nice easy way to manage your daily medications, supplements and readings. Also track up to nine separate Health Indicators such as mood, fatigue, stress, sleep, and your own indicators. Compare these indicators to your diet and exercise and you have a very powerful tool to diagnose your current condition.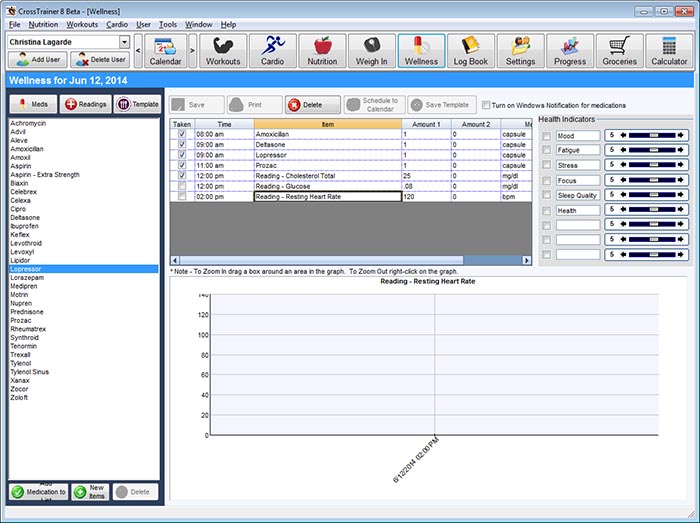 Crosstrainer helps you build lists of meds and readings that you can schedule to your calendar. Turn on the reminder feature and Crosstrainer will notify you when it's time to take them. For example - track medications and amounts, various readings such as blood sugar and pressure, record the corresponding health indicators and then graph them to see what is happening. This powerful feature has been proven to be a big help for many users in maintaining their health with their unique health conditions.

You've set your goals.. You've done the exercise.. You've recorded your food intake.. You've tracked your Wellness and Health Factors. Now make them count! Crosstrainer Progress module lets you view and compare your performance over time.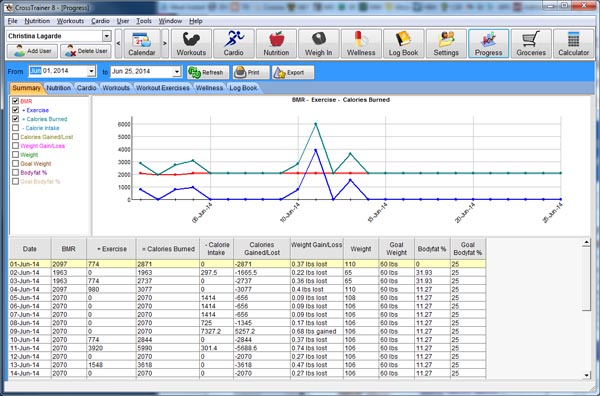 We know that a heath and fitness log is crucial to the success of any fitness plan, be it for weight loss, athletic performance or overall health improvement. Crosstrainer's Progress module will graph and compare your fitness summary, workouts and cardio training, diet and food intake, wellness and even your daily log entries. Select a date range and view and print the corresponding data. Crosstrainer gives you the ability to see exactly what you are becoming over time. Meet your goals with the powerful features of Crosstrainer. That's the least we can do for you.
Crosstrainer News
Crosstrainer 8

for Windows is now Available







June/2014- Crosstrainer Software Corp. announces the release of Crosstrainer 8 for windows. Our flagship software designed for athletic training, meal planning, logging and wellness management. Crosstrainer 8 builds on previous releases of Crosstrainer, combining their best features with new ideas. This provides our customers with a full featured program to create and manage workouts, training plans, diets, meal plans, client management, progress charts, medications and wellness.

This variety of features in one program makes Crosstrainer a fantastic tool for individuals, families, athletes, trainers and gyms to create fitness plans, to set goals and to help achieve them.

Crosstrainer's strong user base and the feedback users continually provide has helped Crosstrainer to create a product tailored to its customer's needs. "Listening to our customers has enabled us to fine tune Crosstrainer and to provide a fantastic tool that will truly help our customers on their journey of health, fitness and wellbeing. That's what built Crosstrainer - our genuine interest in helping people improve their health. We started down this road in 1989 and since then have helped tens of thousands of people to do exactly this. Every decision you make, what you eat, how and when you exercise affects you immediately." - Greg Brady

For a list of all the Crosstrainer 8 features, please click on Read more