Crosstrainer News
Crosstrainer 10 For Windows
Complete Strength Training, Cardio, Nutrition and Wellness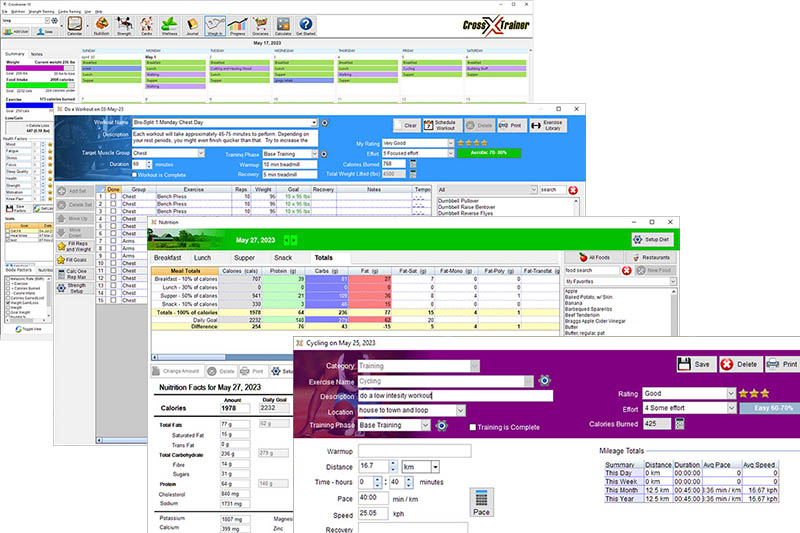 Crosstrainer Software Corp. announces the release of Crosstrainer 10 for Windows.
This premiere training and fitness software is designed for strength training, endurance training, weight management, nutrition and wellness tracking.
Crosstrainer 10 builds on previous releases of Crosstrainer, combining best features with new ideas. This provides our loyal customers with a full featured program to create and manage workouts, cardio, nutrition, wellness, progress and wraps it up in an easy to navigate program.

This variety of features in one program makes Crosstrainer a fantastic tool for individuals, families, athletes, trainers and gyms to create training plans, set goals and to stay on track with real accountability.
Crosstrainer's strong user base and the feedback from our users continually provides Crosstrainer with ideas that we incorporate into Crosstrainer to create software that is fine tuned to what our customers want.
"Listening to our customers has enabled us to further develop and tune Crosstrainer. This has resulted in a fantastic tool that truly helps our customers on their journey of health, fitness and wellness."
What built Crosstrainer is our genuine interest in helping people improve their health combined with input from so many users over the years! We started down this road in 1989 and since then have helped hundreds of thousands of people to do exactly this. Every decision you make, when you exercise, how you exercise, what you eat, affects your every day going forward.
More information to follow, there is alot to update on the site! For a list of all the Crosstrainer features, please click on Read more
Crosstrainer is key to achieving your training and fitness goals
Set your goals and track your progress. There is no better motivation than results.

Never get bored with your training

Set up new routines, training schedules & meals any time.

Lose weight, build muscle, train for an event, get back on track!

fully customizable

foods, exercises and workout databases.

Easily track your progress. It has never been so simple.

See the impact of health factors like mood, sleep and how they affect your progress.

Discover what works for you and then fine tune for your best results.

View your progress with extensive graphing and reporting tools.