Crosstrainer 10 For Windows
Complete Strength Training, Cardio, Nutrition and Wellness
Instant Feedback
Change and modify your workouts and training plans based on a calendar
Nutrition, Strength, Cardio & More
Manage key elements of your training with our complete fitness software
Track and analyize
See Changes in your performance and what makes you feel and perform your best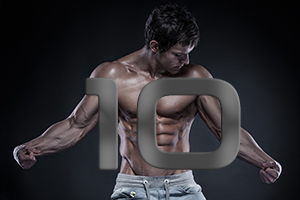 Windows Software
Works from your windows based computers
Powerful Interface
Easy to navigate and browse key elements of Crosstrainer
Strong Support
We are in this for life, support and updates based on user feedback and latest information
Setup your User profile and enter your first Weigh In
This will include your Weight and Weight Goal, your current condition, your height and Crosstrainer will calculate your BMR (the calories you burn during a day without exercise). Based on your goal weight, Crosstrainer will help you set goals for losing weight, gaining weight or maintaining your current weight.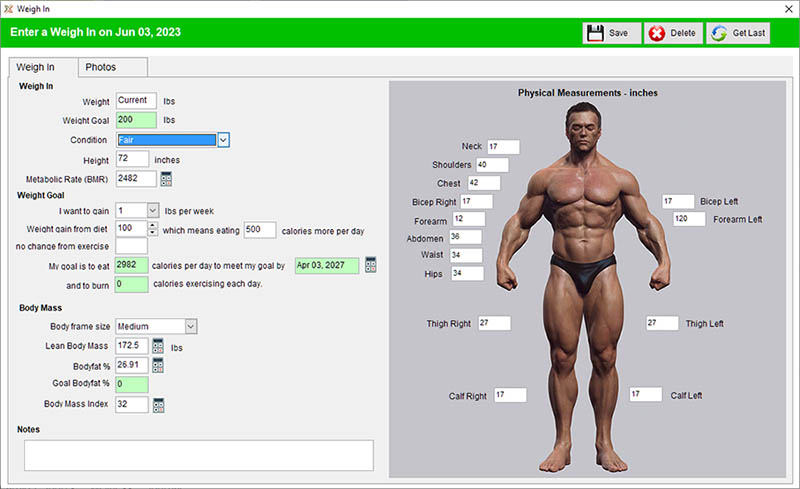 Setup your Diet and enter your daily Nutrient goals
Crosstrainer calculates your Daily Caloric Intake goal based on the information your entered on your Weigh In. Your caloric This goal will change over time, as will the nutrient goal amounts as your weight changes. Select the diet that is closest to the diet you follow or enter your own protein/fat/carb precentages. This will calculate your (macro) goals for each day. If you have goals for other nutrients, you can manually enter them or startout with the USDA daily values.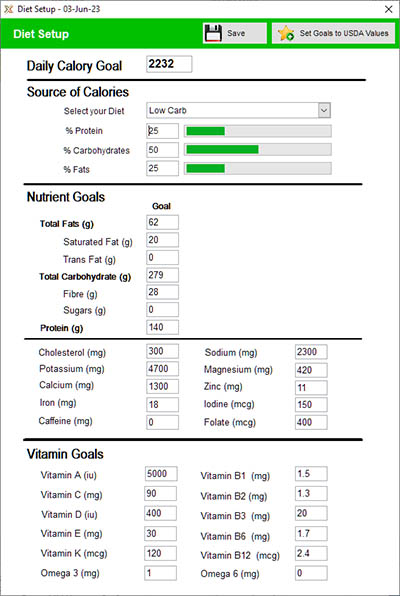 Your Crosstrainer Home Page is displayed
Your Crosstrainer homepage is really the center of intelligence for Crosstrainer. From here you can access all modules of Crosstrainer. Your calendar takes up most of the space. It lets you view your current, past and future fitness activities and information. You can select a day and Crosstrainer will update the Summary and Progress Tabs to the left and bottom of the calendar. You can copy and paste activities and meaks between days by right-clicking on an item in the calendar. Your activities will be displayed on each day, green for nutrition, blue for workouts, purple for cardio, orange for weigh ins, beige for journal entries.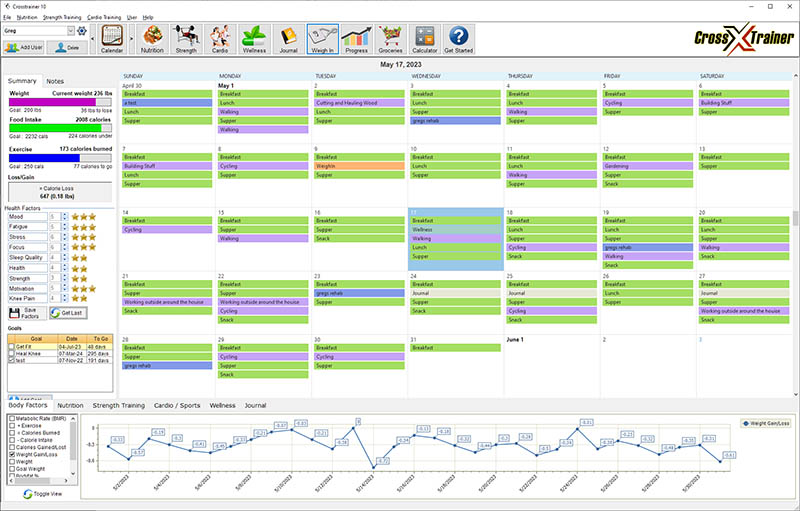 Strength Training
The Strength Training screen lets you enter, schedule and manage your workouts on a daily basis. You can create a workout from scratch or use a pre-built template to start from. The Workout grid displays one row per set or each exercise so that you can capture the detail of every set, this is especially usefull for super sets and other training methods.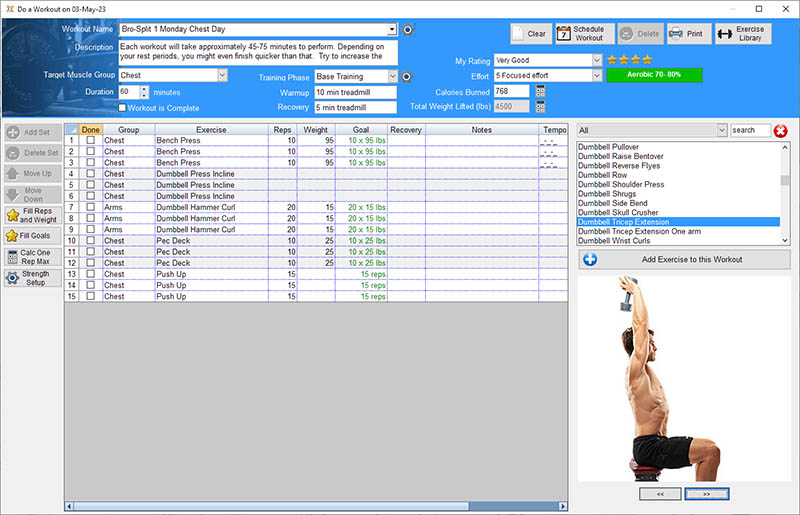 Cardio and other Aerobic Exercises
The Cardio screen lets you enter, schedule and manage your cardio training and other aerobic exercises on a daily basis. You can enter training from scratch or pick from an exercise list. Rate your exercise and record how much effort it took and Crosstrainer will calculate your calories burned. Other features such as a customizable Template for each exercise lets you add your own fields. A Heart Rate Information section lets you enter informaion about your heart rate, and how much time you spent in each training zone.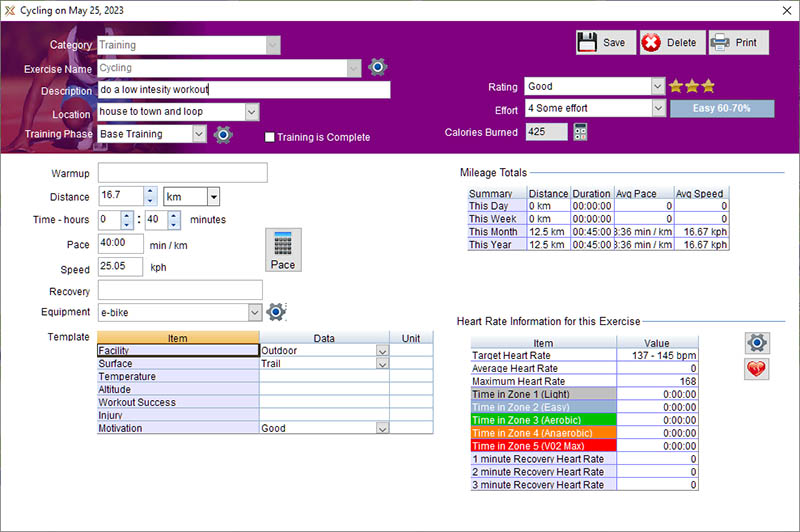 Nutrition
The Nutrition screen lets you enter,manage and reviedw your daily nutrtion. Compare your food intake with your goals and see how your nutrient intake compares with your goals. Crosstrainer's built in foods database contains most popular food items. If an item you eat is not included, you can easily add your own food. Setup your own meal schedule to mach how you eat.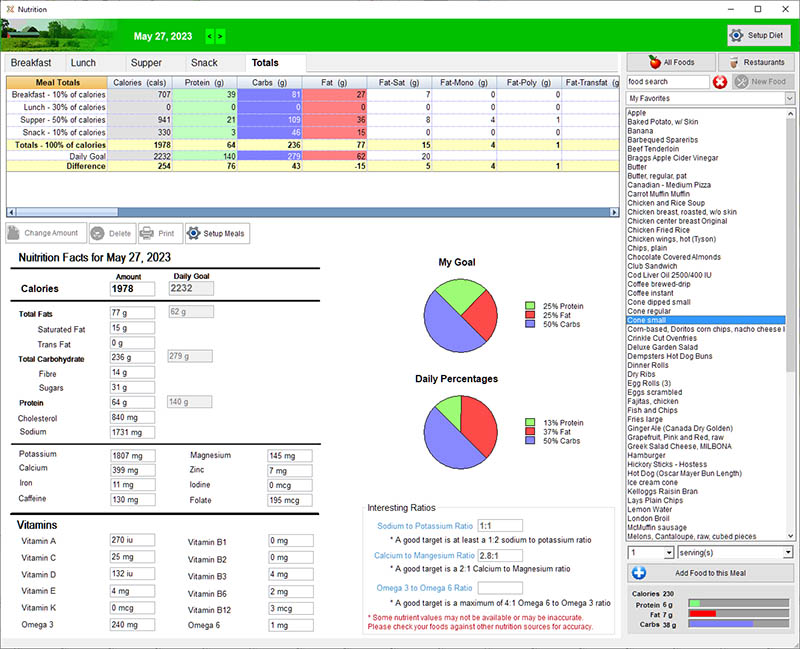 Putting it all together - Your Progress
The whole point of Crosstrainer is to be able to show you your progress over time. Crosstrainer does this in several ways. Below the calendar is a progres bar that lets you view and graph your fitness information for the past two months. Finally, there is a Progress window that will graph your fitness information over a time period that you select.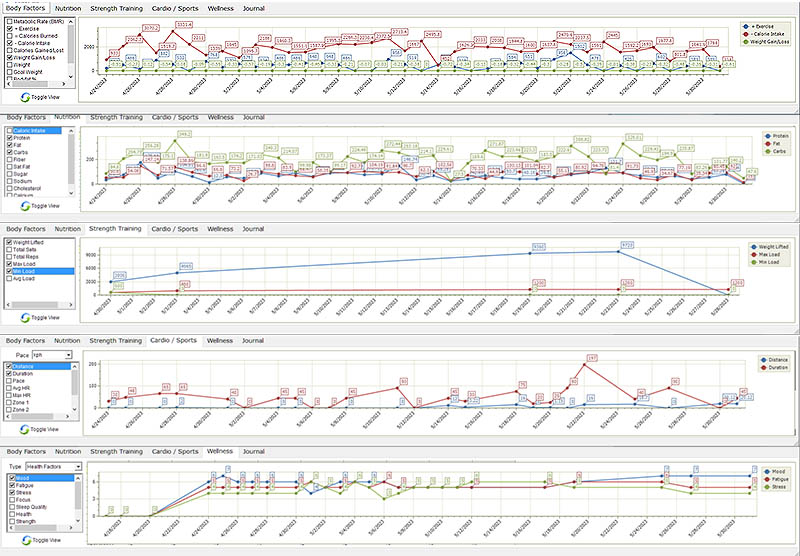 Summary and Wellness Indicators
To the left of the calendar is the summary tab that will show you on a daily basis your weight vs goal, food intake vs goal, exercise vs goal and a summary indicator of your weight change. .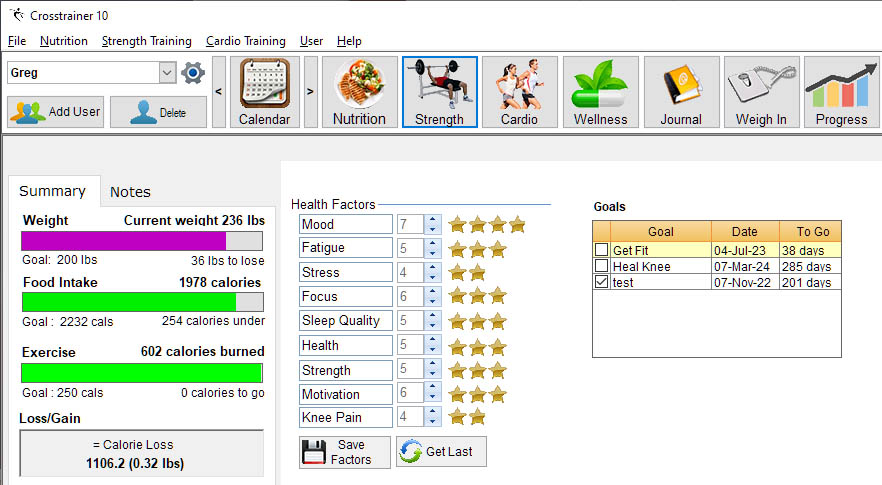 In Summary
Crosstrainer has may more features that I haven't discussed here, I suggest you download our free trial and give it a try yourself. I will be glad to answer your questions and help you get started in making Crosstrainer a great part of your life.